2012 has been busy with retirements already we've lost Peter Luczak, Jose Acasuso, Fernando Gonzalez ( those two will be covered in a later article) and now Ivan Ljubičić has joined them. Ideally the best way to retire would be Pete Sampras style winning your last tournament or Felix Mantilla coming back from skin cancer and retiring like the warrior he was.
First of all I'm dedicating this Ljubičić retirement entry to a very good friend of mine Sammy. We met through this great sport many years ago. As a Croatian like most of his countrymen he is very proud of what Ivan Ljubičić achieved on the tennis court and off the court Ljubičić was winner as well.
Monte Carlo was perfect for Ljubičić to end his tennis career in front of friends and family, though it was disappointing once again like the Gonzalez's last tournament there was no TV coverage for it. With the final tournaments of these players the result is irrelevant, sure it would be brilliant for them to go down swinging in style but life isn't always fair.
Beginnings
Ljubičić 's journey from a Bosnian refugee to successful tennis player is inspirational and known those who follow the sport. As a 13 year old the war in Bosnia and Herzegovina broke out, Ljubičić fled Banja Luka with his mother and brother, the father stayed behind as only women and children were allowed out. After going to Belgrade, Slovenia eventually they made Rijeka, and six months later they were reunited with their father. On the experience Ljubičić said, "Those are moments in life when you have to find all the strength that is in you, to start completely from scratch. I know that it sounds simple, but the less you think about the past, the easier it is to face the future. "
Fortunately he was discovered by Ricardo Piatti whose tennis club took talented refugees and they were able to fund his development as a player, so the financial burden didn't end up on Ljubičić 's family in difficult times. Ljubičić adjusted to life in Italy learning the language and was able to make the final of junior Wimbledon.
Transition from junior potential to making the grade at senior level for every Federer, Murray and Roddick, there is Jeanpierre, Elsner, Tommy Ho. Ljubičić with the big serve clearly inspired by Goran Ivanisevic and a classical one hand backhand which he could go either way was progressing along steadily. From October 1999 Ljubičić made the top 100 and never dropped out of this position in the rankings.
First Breakthrough
In 1999 Ljubičić had his first major breakthrough qualifying for Monte Carlo defeating Arnaud Clement and Andrei Cherkasov in the qualies, before defeating Andrei Medvedev and Yevgeny Kafelnikov in the main draw before losing to Felix Mantilla. He won 2 Croatian Futures events and his first Challenger that year.
Goran Ivanisevic was a hero to all Croatian tennis players and when he won Wimbledon in 2001. Ljubičić "cried liked a baby" watching it in Gstaad and also carried a photo around of Goran. Clearly inspired by Goran's win he smashed his opponent 6-2 6-1. "I was flying. Anybody on the other side of the net that day wouldn't have had a chance against me." The poor guy who copped the thrashing this day was Roger Federer. Later in the year he won his first title in Lyon where he loved playing indoors.
Peak Years
From 2001 to 2004 Ljubičić was capable of beatng the better players but wasn't able to do it consistently which lead to a title drought during these year. Getting a medal at the Athens Olympics was the catalyst along with improving his fitness which in turn helped on his weaker forehand. Ljubo was never the fastest man, even with all the sprint, speed endurance and plyometric drills he was never going to be a Michael Johnson but it helped him greatly.
Croatian Davis Cup Champions
2005 was the year from one of the greatest and underrated feats in modern tennis. He went 11-1 in Davis Cup his only loss being to Dominik Hrbaty in the final. He defeated Roddick and Agassi in the singles and teamed up with Mario Ancic in the doubles to take out the Bryans in the USA. Ancic struggled in the singles but Ljubo was a great leader of the team and they combined as an effective unit. Croatia may win another Davis Cup, but what Ljubičić was able to achieve will never be forgotten.
His fitness improved, along with that came the confidence and the forehand which was the weaker side tended to break down when under pressure improved due to better footwork as he wasn't smothering the ball lead to his best two years on tour.
Grand Slam
For all his ability Ljubičić had a very poor Grand Slam record only one semi final at Roland Garros and a quarter final at the Australian Open when he lost to Baghdatis after leading in the 5th set. Ljubo wasn't great in the heat, then the grass wasn't his best surface with the return. Earlier in the career a lack of fitness didn't help but one needs a bit of luck in Grand Slams and have to take it as well.
Still remember one particular match from the Aus Open. Ljubo was leading Wayne Ferreira 6-4 6-4 5-1 40-15 and managed to lose 7-5 in the 5th set. It's just one of those matches still can't work out how Ljubo lost it or how Ferreira won it.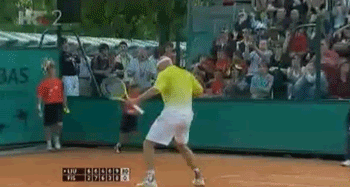 While that was a grand joke his match against Mardy Fish at Roland Garros was unforgettable. He won a tough 5 setter and then introduced dance moves that Michael Jackson and Baryshnikov at their peak wished they could have owned.
Yes, Ljubo had a poor GS record but he had his memorable moments.
Indian Wells
When Ljubičić was in his peak years he had two opportunities to win a TMS event the level under Grand Slams. In 2005 he made the finals in Madrid Indoor and Bercy when he lead 2 sets to 0 against Nadal in Madrid, then came back from 2 sets down to Berdych yet lost both in 5 sets. During his top years he kept running into the guy who he trashed in Gstaad Federer who managed to keep beating him in these events.
It looked like Ljubo's opportunity to win a TMS event had passed hence this is why the title in 2010 Indian Wells was so unexpected yet well received by fans and peers alike. It wasn't like he came into the event as a strong favourite, though he wasn't exactly gimpish either.
He took out Harrison and Dabul easily, then in the 3rd round he upset Novak Djokovic the number 2 in straight sets. The usual letdown after being a top player was avoided when he took out Monaco, then defeated Nadal in the semis playing some of his best tennis from the baseline, not just relying on the serve.
The final had Ljubo a player where this was his last chance to win a TMS playing Roddick who'd never won there. Big serving match where the opportunities were limited, thankfully Ljubo was able to win 2 tiebreakers and get that TMS title that he deserved during his career and it's apt that it was his last career title.
Indian Wells
Winding Down
Ljubičić was president of the ATP player council and on the board for years. Whether people agreed with his choices or not in the role, he could never be accused of putting his interests in front of the people he was representing. The politics within the ATP aren't an easy thing to navigate with the conflicting interests between tournament directors and players under the current structure. He still remains well respected by his peers in dealing with the cesspool.
Ivan Dodig and Ljubo
It was fitting that Ivan Dodig was the last man to beat Ljubičić in an official tournament, even though he wasn't overjoyed by winning this match. Dodig can always use Ljubo's career as an inspiration especially in the way that Ljubičić got the most out of his natural talent and this is all you can ask from a sportsman. With this retirement the generational shift is almost complete, another single hand backhand gone from the tour.
Aida Ljubičić
From a refugee in Banja Luka to living in Monte Carlo with a loving wife and two children, he has made the most of his career. Naturally he doesn't like talking too much about his childhood experiences, but they have helped mould the man. The tour will miss Ljubo with honest answers to all questions whether they're tennis related or about AC Milan.
Hopefully this has done justice to his career and my good mate will be happy with this entry.