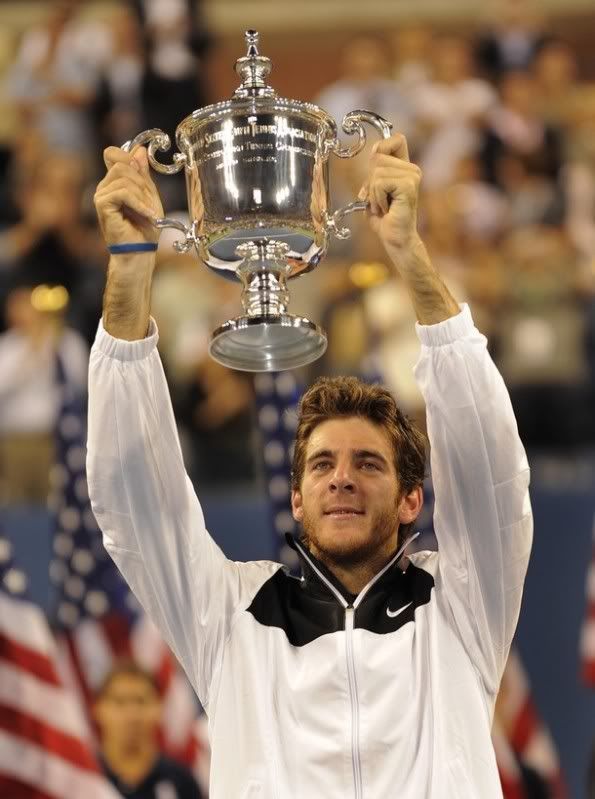 The end of the Grand Slam season at the US Open was a pleasant surprise in that the winner was not Roger Federer as it had been the previous 5 years, or Rafael Nadal and the perennial favourite Andy Murray who can't peak for the big events at this moment in time. Various media outlets and tennis commentators were proclaiming Andy Murray as the next Grand Slam winner, that the tower from Tandil was overlooked, though this will not be the case from now on.
Franco Davin has gone a great job with del Potro and this has not been praised enough, but he is a low key guy, which is perfect for del Potro who doesn't go for the histrionics and just plays the game. del Potro was stagnating under previous coach Infantino, but Davin was able to get his respect and started building the pieces of the del Potro game and it came to its wonderful conclusion during these two weeks.
The four tournament wins in a row in 2008 was the start of the success, then he qualified for the TMS Shanghai, which he should not have played after having a toe problem, which jeopardised the Argentine teams chances in the Davis Cup final and created a bad atmosphere in the team helping the loss, as he had to sit out the second day due to the injury.
After this negative experience, he has shown great aptitude in learning from defeats and the putting them into practice. He hadn't beaten Nadal before 2009, but has been able to do this three times in a row now, being able to impose his game on him and use his particular strengths to expose Nadal's weaknesses. The most important lessons were his Federer matches this year, he got donkey punched at the Aus Open and the last two sets were very poor form from him and got criticised for such a poor showing in the quarter finals. At Roland Garros he was able to outplay Federer for large parts of the match, which is something he had not been able to do previously, but he ran out of conditioning and Federer was able to expose him with the drop shots and physcially got the better of him.
During the North American season he played reasonably well, but went under the radar. The US Open triumph was well deserved, after the 3rd round match with Crazy Koellerer, which was very entertaining, he just progressed along efficiently and quietly. Then come the semis he gave Nadal a good beating, which is never a bad thing and the final with Federer. He was written off by most media pundits, commentators, thought he was just there to make up the numbers and did not have a serious chance of winning.
There are a few similarities with the last Argentine to win a Slam Gaston Gaudio. Both guys were coached by Davin, both had never won a TMS before their Slam titles, were big underdogs in their respective finals and also won a Slam in their first final. Though barring injuries or a severe loss of form then del Potro will make more Slam finals.
It will be interesting to see how he follows up this win. He has a lot to work on still, the volleying needs to improve, but he is working on this, the movement is something that can always improve, the endurance and strength. He has a very solid and unspectacular game, mechanically very good strokes, the type of game which he finds difficult to play against, a mixture of slow slices and changing the pace to get him of his rhythm is something he will have to adjust to, at the same time he is fortunate that many players don't play this type of game. Apart from the grass he has shown that he is capable on the other two surfaces.
Congratulations to Juan Martin del Potro on his first Grand Slam title defeating Nadal and Federer consecutively is impressive, but now it's time to celebrate for a few days and then face up to the next challenges.