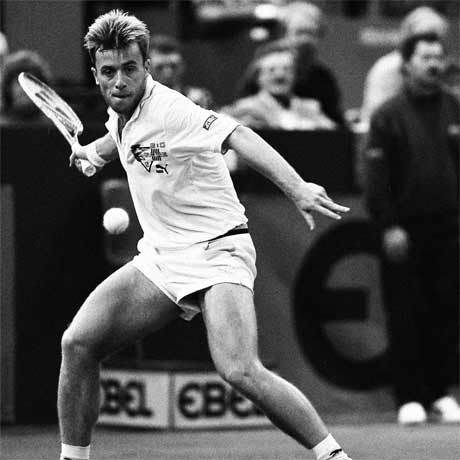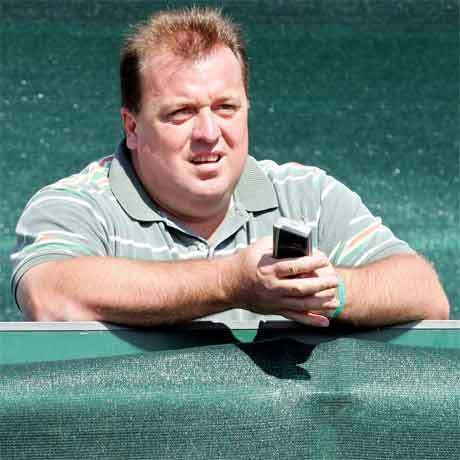 Horsti Skoff dies at 39 because of heart attack
This is always a tough thing to write about it, especially coming the day after such a surprising win by one of my favourite players. It definitely gets things back to earth very quickly.
Just before the mens final at Roland Garros, the news came through that Horsti Skoff, the very controversial and cantankerous Austrian who was always at loggerheads with Thomas Muster had died at age 39 of a heart attack. It was definitely too young for him or anyone to die, but he lived the fast life and enjoyed himself, though towards the end of his life, he was having weight problems and this will be shown by the pictures that have been posted.
Skoff was original for sure and definitely not the most popular guy around with his peers. He'd talk to them, laugh at them, clown around and entertain the crowd with the antics, albeit getting under the skin of the opposition players.
Off the court he didn't mind the party life at all, he and Muster were so diametrically opposed in temperament and in game style. Horsti was talented, but didn't train as hard as Muster, whereas Muster didn't have a great degree of natural talent, but an outstanding work ethic. In football terms, Horsti was the talented midfielder with the skillful feet, but moody and would drift out of games and Muster was the guy who did the hard work, while valuable tended to be looked down upon.
Horsti's memorable matches were the 1988 Vienna final when it was the first ever all Austrian final at the event and he defeated Muster in 4 sets and that defeat still bothers Muster. At the event, the crowd used to chant Horsti's name, but it will be interesting to see what happens now he has passed on. Also the 6 hour match with Wilander in Davis Cup that didn't have advantage sets and I was there for that match, it was a very brave effort, but he didn't have anything left in the tank the next day.
Davis Cup also had its lowlights for him. When they made the semi finals in 1990 after Muster thumped Agassi, it came down to Horsti and Chang in the 5th rubber. This was played in the Ernst Happel Stadium in Prater Park Vienna, the crowd was signing and Horsti was so inspired and took the first 2 sets, but the daylight faded and the match was suspended, he had to come back the next day. The chance was lost, Chang changed his tactics and was able to get the job done.
Then the one in Graz, where Muster and Stich had a great battle, with Muster winning in 5 sets and the match went 5 and a half hours, but Goellner served out of a tree that day and Horsti wasn't able to play well enough to get the victory for Austria.
Once he retired, he would make the odd appearance around the traps. Actually just recently I had wanted to interview him, but obviously that chance is gone now. He was opinionated, arrogant at times, very friendly, depended on his mood and was a ladies man, doing well in marrying a former Miss World.
He had his own academy set up in Carinthia and was hoping to bring through some players to improve Austrian tennis.
Many people forget before Muster and Horsti there was no Austrian tennis. Then these two came through at the same time and while they fought and couldn't stand each other, as Muster said "Horsti was there for a lot of my career and he pushed me very hard". These two came through without the help of the tennis federation and then put it on the map.
RIP Horsti and hope the academy can still continue on in your name.